Go Back to the top of the page
November 2013
Dear Bro. Mike and Bro. Roger,

Grace to you!

I am in receipt of UTTI support for the month of September, October and November sent monthly by Michael Miller. This is intended for Bryce Homes, Feeding Program and Prison Ministry.

This month of November our country was devastated by Super Typhoon "Haiyan" (local name "yolanda") and it cause billions of pesos worth of properties damaged and thousands of lives lost. If you will look at the aerial view of the damaged it looks like that several atomic bombs has been dropped and this happened a few days after the magnitude 7.2 earthquake happened in Bohol, central visayas almost the same location of the typhoon. The whole country of Philippines is in sorrow for this fateful events. In spite of this gloomy environment we look positive and trying to look these events through the eyes of faith. Just like the word of Jeremiah in Lamentations 3:21-23
"This I recall to my mind, therefore have I hope. It is of the Lord's mercies that we are not consumed, because his compassions fail not. They are new every morning: Great is Thy faithfulness."

By the grace of God the UTTI ministry here in Phils. is several hundred miles away from the place of devastation. We can say that we are not affected physically but seeing the pictures of devastation in TV monitor will make your body shake in fear. Yes, we are not affected physically but emotionally we are. We sympathized with our fellow Filipino's and again I see how our nation stand united in helping our countrymen affected by the typhoon. Different organizations from various sectors extend their help to the victims of typhoon. Even churches of different denominations are extending their support. Not only that, even prisoners in Muntinlupa maximum security compound (where we do prison ministry) skip a meal or two to let their raw ration food be donated to typhoon victims. By these I see the hand of God how they moved us to stand united. Also, when you see how our good Lord moved the hearts of international community to help our nation
you will
truly glorify God. Instead of shuttering our faith this recent calamity strengthen our faith because in it I see the sovereign hand of God reminding us the only thing we need in this world is God. It reminds me of Psalms 46:8, 10
Come, behold the works of the LORD, how he has brought desolations on the earth…Be still, and know that I am God. I will be exalted among the nations,
I will be exalted in the earth!"

Please help us pray that the recent calamity happened in our country may bring people on their knees humbling themselves in the sight of God.

Thank you very much UTTI for your prayers and support.

We will work and glorify God till Jesus comes.
In Christ,

Richard
Click on an images to view it larger
Dear Bro. Mike and Bro. Roger,

Grace to you!

Last Friday, November 8, 2013 our country was hit by a super typhoon "Yolanda" (international name: Haiyan) and it is considered as one of the worst storms ever recorded that washed away homes and schools and hundreds people are believed dead. The Aftermath of typhoon were corpses hung from tree branches and were scattered along sidewalks and among flattened buildings, while looters raided grocery stores and gas stations in search for food, fuel and water.

But you have nothing to worry because by the grace of God the Lord spared Manila from this devastation cause by super typhoon. Malanday, Marikina where our Bryce Lodge located was more than 200 miles away from the place of Devastation. I just can't imagine if this happen in Manila where most of the poorest of the poor were living it would cause more lives and devastation but praise the Lord because He spared us from this great tragedy. You have witnessed bro. Roger how our Bryce lodge have been affected by flood last year 2012 and thank God because this year we have no experienced of flood.

This month of November, the second quarter of school was ended and I checked the report card of our Bryce kids and I am happy to inform you that they were doing good in school. They are very thankful for the school and food allowance sponsored by UTTI. They are now ready for the third and fourth quarter of schooling that will commence this month and will end in April. They are prepared due the assurance that UTTI will always be there to assists them to their need. To God be the Glory!

With regards to the spirituality of the children and their family (which I know this is our first priority) I would like to inform you that they continue to remain faithful in the Lord. I am teaching right now the doctrine of Christ (Christology) to the Young people of the church, because we separated young people from small children. Every first week of the month we are doing couple's fellowship in the church intended for the education of parents on how to train their children in the way of the Lord. We obliged the parents of our Bryce Lodged kids to attend this meeting and so far they appreciate the Biblical principles on parenting that they are learning in this fellowship.

Overall the Bryce Lodge ministry is doing good here in the Phils. by the grace of God. Please help us pray that the Lord continue to touch the hearts of these children and their parents as well.

Looking forward in seeing you and working with you here in the ministry of UTTI here in the Philippines.

In Christ,

Richard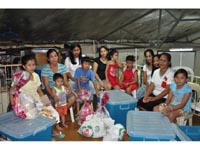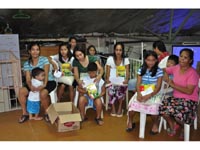 Click on a image to view it larger
August, 2013 Letter 1
Dear Bro. Mike and Bro. Roger,

Grace to you!

I would like to inform you that UTTI ministry here in the Phils. continue to do good by the grace of God. Aside from our regular feeding ministry for children, our regular teaching ministry for them also continue. We return from the New Testament public ministry of Jesus as we are done with the Old Testament stories and books. Once a month we do bible quiz for children to determine how do they remember the lessons they learned in a month. We are also training them how to open their bibles and find the text in scriptures. Children ages 7 and 8 are now learning to use their bibles and find the text in Scriptures. Although we are using slide presentation in our teaching and yet we make sure that they have bibles in hand every time we cite text in Scriptures since the text will not appear on the slide. This is our way of training them to use their bibles and also to encourage them to bring their own bible every time they go to church. We are reviving the traditional way of attending church that each person must bring their own Bibles as I have noticed now a days that since most of the churches are using slide Christians tend to leave their Bibles at home. However, if we our children ministry is doing good, we have some setbacks in prison ministry. I only go to prison once a month and this is just to give their support. Before, I go to the prison regularly at least once a week and there are times I go twice a week. I do regular teaching in prison before both in our church inside the prison and in Bible School inside the prison. Since I got busy with my work I abandoned teaching ministry in prison and I only go there to give their support. Please help me pray to find a person who will dedicate time for prison ministry to train and to teach our brethren in prison. I even offer this ministry to Bro. Rey Laoagan and yet until today he is undecided. I seriously considering to turn over
prison ministry to a church that will have burden in prison. Please help me pray about this although I have burden in prison ministry but I don't have enough time.

Thank you very much UTTI for your continuous support in your ministry here in the Phils. May the Lord continue to bless UTTI ministry!

To God belong all the Glory, Honors and Praises!

In Christ,

Richard
Click On A Picture To View It Larger
August, 2013 Letter 2
Dear Bro. Mike and Bro. Roger,

Grace to you!

Attached herewith are pictures of Bryce Homes Scholars taken last June 2013 receiving their monthly support which they used to purchased things needed for school such as school supplies, bags, uniforms, shoes, and books. They are very thankful for all your support and prayers, and in return this 1st quarter of school year I have checked their report cards in school and I find their grades much higher compare to their grades prior to becoming scholars of Bryce Homes and it is due to the fact that this time they have more time to focus on their studies because their need in school are provided through the help of Understand The Times Ministry.

Thank you very much UTT and all its supporters. Truly the Lord is using your ministry to change lives and create and impact to the lives of these unfortunate children. Truly the Lord is Good and Faithful and He will not fail to provide for the needy.

Let us continue to proclaim God's goodness and grace through preaching the gospel and doing kindness to the needy.

We will work till Jesus comes!

In Christ,

Richard
Click On A Picture To View It Larger
May 30, 2013
Dear Bro. Mike and Bro. Roger,
Grace to you!

I am in receipt of UTT support for the month of April and May. This is intended for feeding, prison ministry and for Bryce Homes Kids. I want to thank the Lord because every week I noticed how the Lord works in the heart of little children benefitting from our feeding ministry. It is with deepest joy that I inform you that two weeks ago the church baptized one soul which is a product of our feeding ministry. He is no other than Jerome Martizana. He started attending the church at the age of 9 and after almost 8 years of hearing the word of the Lord, he finally confessed Jesus Christ as his Lord and Savior. We took him as our church caretaker and church worker. The church is also supporting him in his schooling. This year he will attend first year college. Truly the Lord works in a mysterious way. This is such an encouragement knowing that the Lord in His Time saves soul. We need to persevere and exercise patience, hope and faith because we know that our labor in Christ is not in vain.
Please help us pray for the souls of the children whom we feed because we know that aside from the physical food, they need spiritual food for their souls which is the Word of God.
Thank you very much UTT. God bless you more! To God be the Glory!

Sincerely In Christ,
Richard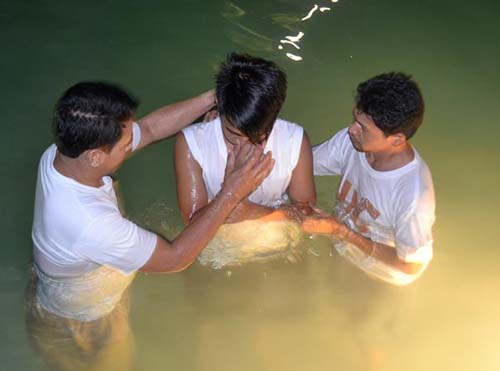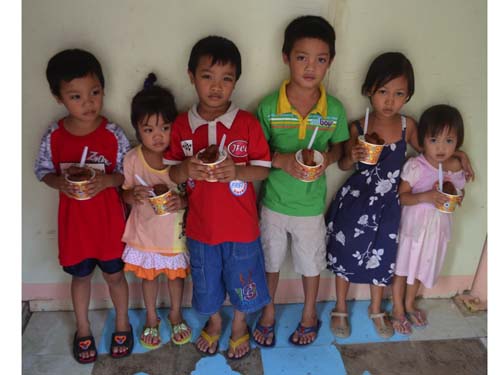 April 9, 2013
Dear Bro. Mike and Bro. Roger,
I am sending the pictures of Feeding and Rice Distribution of Understand The Times Ministry. We are giving a kilo of rice for every child under our feeding program at least once a month.
I am in receipt of UTTI monthly support for the month of March. On behalf of all the recipients of UTTI support to children that benefits in our feeding ministry, inmates in prison that are very thankful for your continuous support, and Bryce Homes kids for food and school support.

Truly, UTTI Philippines ministry has gone a milestone in serving our Lord with sincere desire to help the needy and in bringing lost souls to Christ. You can rest assured that all the support you are sending us is used for its intended purpose. Let us continue to pray for the provision of our loving and gracious Lord. May He continue to bless all the souls that He is using behind Understand the Times International Ministry.

In Christ,
Richard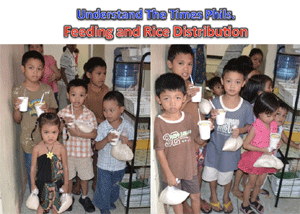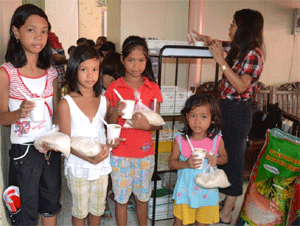 March 6, 2013
Dear Bro. Mike and Bro. Roger,
Grace to you!
Sending you the latest pictures of Bryce Homes 2-7 giving school support and food for their daily sustenance. They are very grateful to the Lord for using UTTI as a means of grace through helping them to cope up with the daily struggle of living. These families are faithfully attending the church and let us continue to pray that the Lord will touch their hearts and open their minds so that they would come to the understanding of the gospel of our Lord Jesus Christ and be saved.
Praise the Lord for using both of you and the ministry of Understand The Times in reaching less fortunate souls and bringing them to the Lord. We will continue to pray for God's provision for UTTI to be able to maintain all the necessary expenses for the ministry.
Looking forward for the Great day of Christ coming!
In Christ,
Richard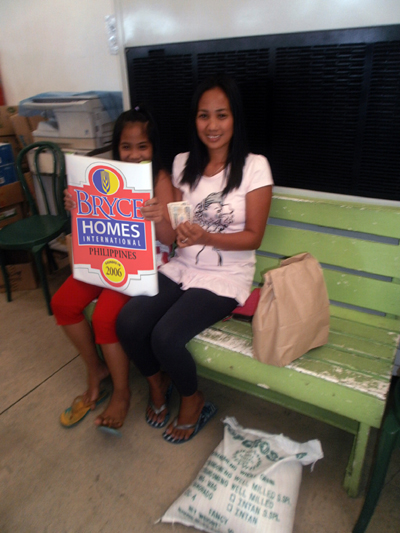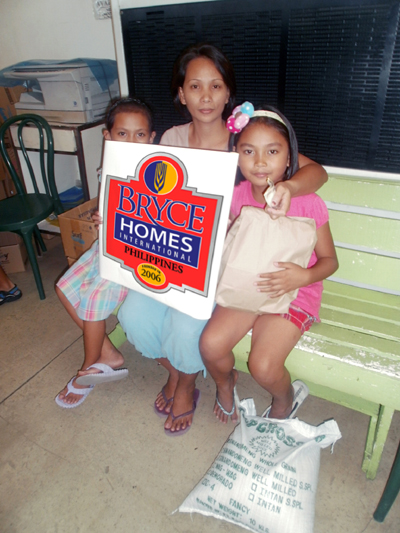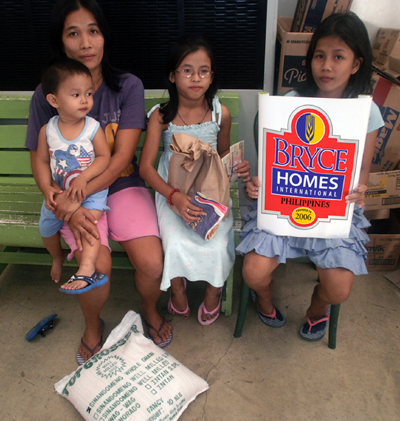 January 12, 2013

Day five in Manila was another seminar day. This time the church in Malanday was packed, both the main floor and the balcony above. Youth groups had been invited from several churches. They had never heard anyone present the reasons why creation is the foundation of the Christian faith nor seen the evidence that exposed the Darwinian evolution view.

I spoke three times during the day developing the case for creation. It seemed as if everyone was interested in the information.

As on the previous day Michael Miller spoke and shared his testimony. His talk was appreciated by everyone. Michael is unique. Few that I know who suffer a disability like cerebral palsy are willing to stand up in front of a crowd and share how God has touched their lives

. Mike does this in a very effective way.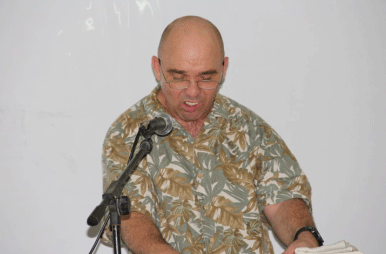 The day was long and very hot. When the question period that ended the conference was over we still had time to visit the remaining Bryce Homes in the area. A month ago, a sponsor contacted me letting me know that he would commit to sponsoring an additional Bryce Home in the Philippines. This brings our total number to seven.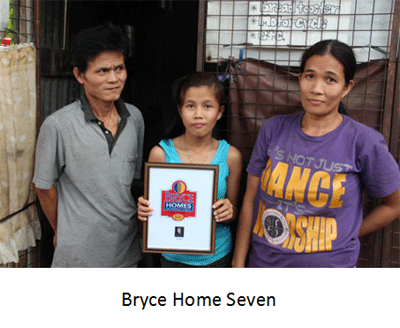 The Bryce Homes Program in the Philippines assists poor Christian parents to send their children to school and to also provide clothes and food. This can be done for as little as $100 per month. There are no administrative costs as Pastor Richard implements this program voluntarily though his church.

Many of the children in his church started to attend regularly because they were being fed twice a week by the feeding program we support. Eventually, one parent or sometimes both parents starts attending and they hear the gospel and become Christians. As you can see this is not just the "rice gospel." This is the gospel according to the scriptures. Not only will lives be changed for "the here and now" but for "eternity".

It is our hope and prayer that at least some of these children will continue their education and become leaders that will impact their country for Jesus. All of the families that we are supporting that have been designated as Bryce Homes are moving ahead with Christ leaps and bounds. If you are participating as a donor in any way to the program we want to thank you for what you are doing. God is at work in one of the poorest areas of the Philippines and people like you are making a difference.

January 11, 2013

It has been several years since I have spoken three times in one day on the topic of creation. Yesterday I had that opportunity. While the heat and humidity was somewhat challenging at times, by the grace of God the task at hand was accomplished. The group in attendance was made up of a mixture of pastors and church workers from several churches.

I must say that getting back to the subject of the importance of biblical creation was invigorating for me. For the last decade the discernment side of the ministry has overshadowed the basic creation-evolution ministry that was the foundation of my call into ministry

.

It seems that discernment is a battlefield with so-called believers who seem bent on heading down the road of apostasy. Continuous conflict has consequences. There are very few rewarding experiences that accompany this kind of ministry. However, worldwide, I have found that in most cases, when the evidence is presented to support the biblical creation view, people are blessed and encouraged.

This was certainly the case yesterday. As the day unfolded, the topic reinforced the concept that faith in the Word of God is dependent on hearing the Word of God. By showing evidence from the facts we find in biology, geology and archaeology supporting the Bible, faith was built up. A number of the attendees were excited about the meetings and thanked me for coming. We also handed out a number of Evidence for Creation books and Searching for the Truth on Origins DVD packets.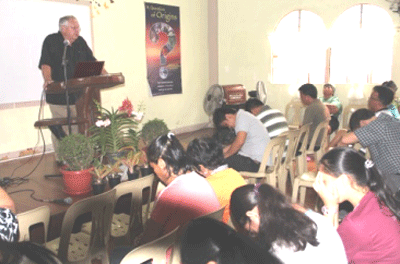 Following the completion of the conference there was time to visit three Bryce Homes in the Malanday area. The last time I was there was during the flood caused by the typhoon last August when the area was devastated. The area looked so much better I could hardly believe my eyes. For those who donated to assist our Bryce Homes during this time,

we express our gratitude to you. You have no idea what a difference you made in the lives of these families.

I got back to my hotel room late in the afternoon completely exhausted. Tomorrow will be another interesting day as we are scheduled to speak to a group of students, many of them who have been already indoctrinated by evolution by their education.

January 10 2013

Yesterday was a partial day of rest while the rest of the day was spent visiting Bryce Home One. This is the first home we established here in the Manila area. The caretaker and overseer is Rebecca Miller's brother Ray who I have known since the first time I came to Manila five years ago.

It was Ray's vision to provide education for at least two poor native children from a remote area of the Philippines. The two boys are Joseph and Abner. They attend school nearby with his own children and stay with his family. As Ray's family live in a very small home, UTT was able to provide funds for him to build a small addition to his house where they can have their own room.

It was very encouraging to see what is happening through Ray's mentorship. The boys have learned about the Christian faith and know the Lord and read the Bible. They attend church with Ray's family on a regular basis and have a desire to attend a Bible School when they finish school so they can effectively share the gospel when the go back to their village.

I was able to speak to the two boys as they are learning English in school. They both had printed out a thank you note to give me expressing their appreciation for the chance they had been given to improve their lives.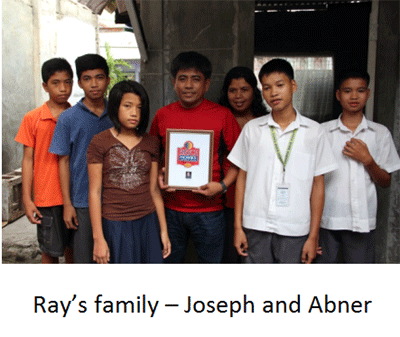 January 9 2013

Prison Ministry in Manila

My entire day yesterday was spent visiting the Medium Security Prison here in Manila speaking to a group of about 35 pastors. One of the ministries, that Understand The Times supports financially here in Manila, is to take the gospel message to prisoners. Last year when I was here we visited the Maximum Security Prison. This year we did a daylong session at the Medium Security Prison that houses about 6500 men.

No matter how many times I have visited a prison, each new visit provides new feelings and emotions that I never experienced before. Yesterday was no exception. The prison is not confined to a few buildings – it is an entire city. After clearing security at the gate we made a long walk through the prison grounds. As we were not allowed to take in anything with us but our Bibles and our notes I have no photographs to visually illustrate the many memorable sights along the way.

Finally we ended up in a room open to the outside but surrounded by barbwire. I had never had the experience of speaking in a cage before. Pastor Richard, who is in charge of the prison ministry, shared the first session by giving an excellent message based on Chapter 40 from the Book of Isaiah. In the second session, I shared my testimony and explained my own personal journey from believing in evolution to creation.

Following a break for lunch for the prisoners (pastors), Mike Miller shared his testimony and challenged the men to share the gospel with their inmates. His messages are always inspirational. Mike is handicapped with cerebral palsy but his handicap does not limit his ability and gift of being able to point people to Jesus Christ and his Word.

In the final session I spoke of the topic of how creation is the foundation of the Christian faith and how creation can be used as a means of evangelism giving facts supporting the biblical creation view along with a number of scriptures. Following that there was a question period that lasted for about half an hour.

About ten different Christian denominations were represented. These men have become believers and pastors while incarcerated in jail and are now reaching out and sharing their faith with others. The next time that Richard visits the prison he will bring with him a number of Evidence for Creation books that will provide more factual information these men can use to point unbelievers to the Creator, Jesus Christ.

The journey back to my hotel through the heavy traffic was long and tiring. Tomorrow I will spend the day visiting Bryce Home One as well as meeting with Mike and Becky Miller who coordinate the ministry here in the Philippines.

January 8, 2013

I am writing this update from Manila, Philippines. I arrived here late last night after a long trip via San Francisco and Guam. I will be here for one very busy week. My plan is to post a few reports to let our readers know our activities.

Mike Miller and his wife Becky are here as well. Mike will be involved in several of the meetings. We will be speaking to prisoners in jail, pastors and church leaders and students. The major theme of my topics will be the importance of biblical creation and how it can be used as a tool for evangelism.

We will also checking on the Bryce Homes Philippines Program and adding an additional Bryce Home, Bryce Home 7, while we are here. We are grateful to those who have caught our vision and have come alongside the ministry of Understand The Times by support the Bryce Home Program here in the Philippines.

As a side note, Becky Miller will be sending out receipts to donors who donated during the month of December when she and Mike return from the Philippines about the middle of the month. If you were a December donor and did not receive a receipt and thank you note from us it was because Mike and Becky have here in the Philippines visiting relatives.

As another side note, Wade and Lisa Oakland who live in Canada had an addition to their family in the early morning hours of January 6 – Caitlin Rae. As you can see Elizabeth Ann is a very proud sister. Myrna and I now have four grandchildren – one boy and three girls.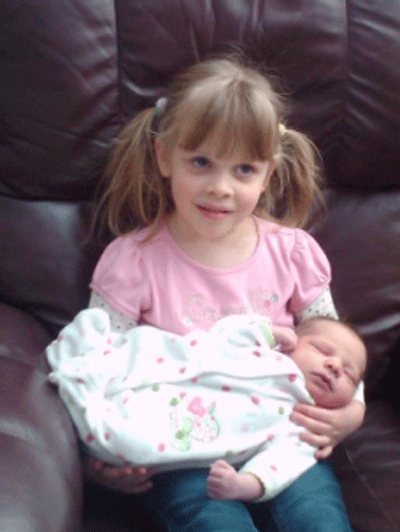 October 15, 2012
Dear Bro. Mike and Bro. Roger,
Grace to you!

Our brethren in prison are so thankful for your continues support for them.
Please see attached letters.
In Christ,
Richard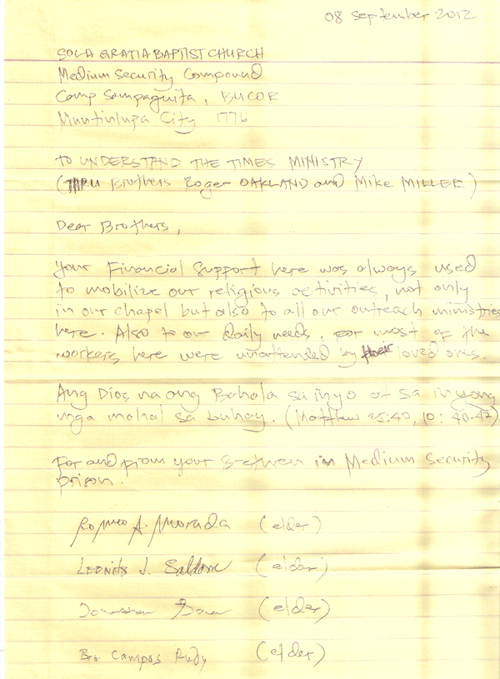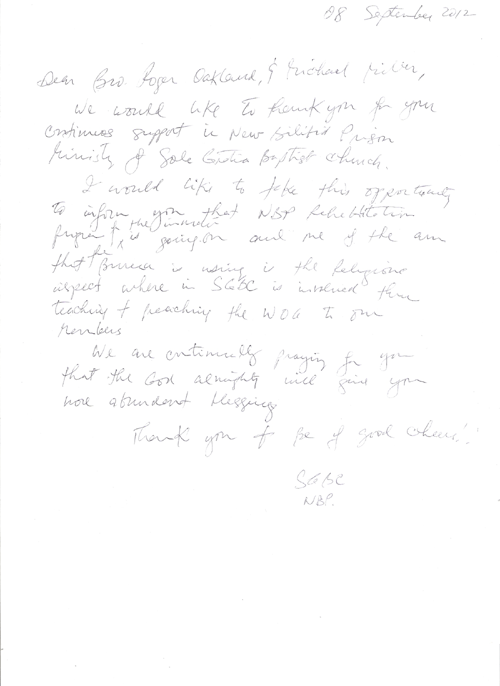 August 12, 2012
The sun shone in Manila on Sunday morning and we headed off to Malanday where five of our Bryce Homes are located. Pastor Richard had called me late Saturday night indicating they were planning to hold a service at his church and asked me if I would speak. He also told me that the clean-up was a long way from being complete and to expect the same devastation we had observed two days earlier.
As Sunday was to be my last full day here in the Manila area it was important that we do our best to visit the Malanday area with the purpose of speaking to the fellowship of believers and to visit the Bryce Homes. We arrived in the Malanday area but Richard was only able to find a place to park that was about a block and a half from the church. The last time I had been there was at night and there were no lights to see. This time it was broad daylight. We put on our boots and headed towards the church. The following photos will give you an idea the conditions the poor people of Malanday are facing. The water has subsided but the damage remains. The smell is unbearable. Disease threatens their lives.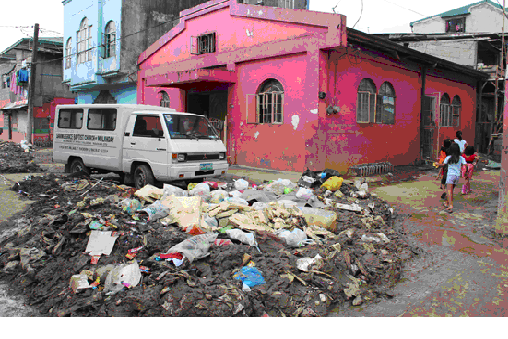 Pastor Richard's church in the background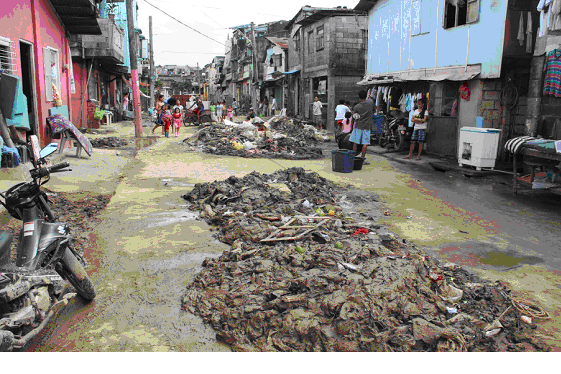 Residents have pushed mud and garbage from their houses into the street


According to reports the government will not be able to clean up the area for at least one week and the power will be off for at least one month. We visited all five Bryce Homes before the service and tried to encourage the parents of the homes and the children. We also committed to continue to provide them with resources so they can get back on their feet.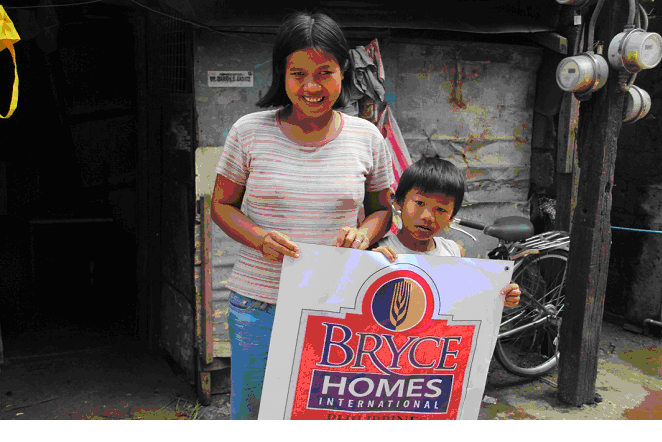 Frances and Frankie Aquino – Bryce Home Two
As you are reading this report, try to imagine what it would be like to live in this location during this time. This morning the weather report indicates there is another monsoon in the making and Manila is expected to face more flooding in the near future.
My topic for the morning service was intended to be an encouragement to those who were there. Before the adult service over 50 children from the area met and sang songs, recited Bible verses and had a Bible Study. Afterwards the children were fed and given a packet of rice and noodles to take home.
If you were here to see this situation as I was I am sure you would be deeply impacted. We who have so much have no idea what it would be like to be faced with a situation like the one that has been experienced here. If you can help in any way it will be greatly appreciated.
Sincerely,
Roger Oakland
August 11. 2012
The rain stopped today but the whole day was spent waiting to see if we could enter into the Malanday area to visit our Bryce Homes and take in relief. It was not until late in the evening that I heard from Richard. He notified me that we would attempt to hold a service at his church on Sunday morning and that I should be ready to be picked up early Sunday morning.
Apparently the conditions are still very bad and the streets have not been cleared. I will know more in a few hours and will write another report as soon as I know more.
Please continue to pray for all of our Bryce Homes in the Manila area and the people of Richard's church in Malanday. This is a crisis that is beyond anything I have ever experienced first-hand. We will do all we can while we are here with the resources we have and then follow up with more supplies to be distributed later when I return to Canada
August 10. 2012
Since turning the focus of the ministry of Understand The Times towards sharing the gospel to the needy in poor countries I have witnessed and experienced many things that have been etched into my mind for as long as I live. More and more it becomes obvious to me that this is the direction the Lord has called us to go in this phase of my life. Yesterday, while here in Manila, it was once more confirmed that reaching out and helping the poor and orphaned is truly what the Bible calls "real Christianity" (James 1:27).
As I mentioned in my previous report I arrived at the Manila Airport in the midst of one of the heaviest continuous downpours the city has ever experienced. All rivers had over flown their banks and low lying areas nearby had been flooded. Over 1 million people have been impacted by this disaster and the loss of human life is now over sixty.
The first day I was here it was not possible to go to the area where our Bryce Homes are located because it was completely underwater. Yesterday there was a let up in the rain and we set out around noon to take food and necessities to as many of the six homes we are supporting here. Pastor Richard picked me up and we went to a large market where we purchased rice, noodles, sardines and soap.
Our first stop was Bryce Home One in the region of Pasig City. While the water here had been chest high it was one of the first areas to subside. Our caretakers there are Rey Loaogan and his family. Earlier this year UTT had assisted Rey to add a room to his humble home to take in two children, to care for them and give them an education. After dropping off some goods we proceeded on our way to the area where the remaining Bryce Homes are located – Malanday.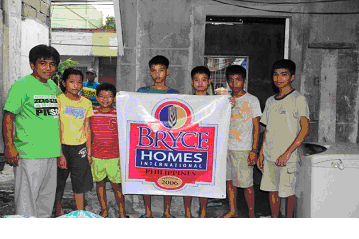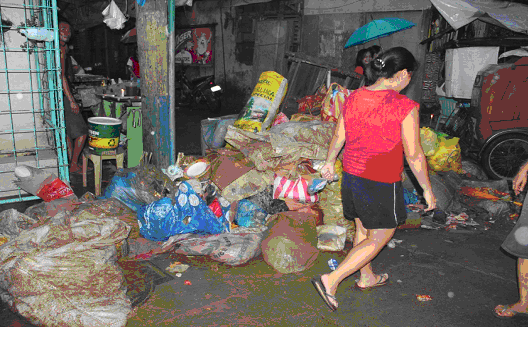 Finally by dark we arrived at Malanday but were unable to get within a block and a half of the church. There are no words to properly describe the conditions we saw. What made it worse is that there was no power and we were submersed in compete darkness. A group of children from Pastor Richard's church in Malanday met us and told us the best route we could go to make it to the church on foot. We put on our knee high boots and slopped our way through the muck carrying the produce we had purchased to the church. Some of the older children helped us carry the smaller packages.
I cannot describe in words the conditions we saw in this area. The streets were completely buried in mud and garbage three of more feet high. As you can understand the smell of this rotting garbage was unbearable. It is hard to imagine how the people living here would be able to recover. I have been to this area several times before in the past. In my wildest dreams I could have never imaged the devastation I saw this time.
After dropping of the produce at the church there was not much else we could do. As we were leaving the area the sky opened up again with another deluge and there was a tremendous amount of lighting and thunder. As we headed back to the hotel Pastor Richard received word that government officials had warned those who remained in the Malanday area to leave immediately as an overflow from a dam holding back a river running through the area was about to be released.
Today the rain has subsided and I am waiting word whether we will be able to go back tomorrow. I desperately want to see the remaining five Bryce Homes and find out what we can do to assist them in this time of need. I am also thankful I was here to be able to see first-hand what our brothers and sisters in Manila are facing and to find ways to help them in this time of great need.
While it is not our custom to appeal for funds every time we see a need, I feel that this is an exception. If you feel led to contribute to assist in this situation you can do so through Understand The Times. Pastor Richard is a totally trustable brother who will administer the distribution of all resources. Your gifts will be greatly appreciated.
Sincerely,
Roger Oakland
Understand The Times
August 9. 2012
I am writing this ministry update from Manila. Several months ago I planned a trip here to visit the six Bryce Homes that we established here to come alongside widows and poor families and by assisting them with food, clothing, education and spiritual direction. Little did I know when this trip was planned that I would be arriving at the peak of historic monsoon rains that have left over 800,000 homeless and 20 dead in the Manila area.
I was met at the airport by Pastor Richard and taken to my hotel which is located in an area of Manila that was not affected by the flooding. Unfortunately, the area where all of our Bryce Homes are located is completely flooded with water that is chest high in the streets and homes. As it has stopped raining today we are waiting on word when we will be able to get to the area and provide relief to our families.
It is apparent to me that the Lord has guided me here at this time to be His hand extended. Please pray for us as we visit the six homes and provide care and assistance. I will be sending daily reports to be posted on our site.
Sincerely,
Roger Oakland
Understand The Times
June 21, 2012
Dear Bro. Mike and Bro. Roger,
I am in receipt of UTT support for Malanday Feeding Ministry, Prison Ministry and Bryce Lodge. In behalf of the recipients of UTT support please accept our heartfelt thanks to all the supporters and donors of UTT ministry. Thank you very much for your generosity. You can rest assured that we are using all the funds that you sent for the welfare of its rightful beneficiaries. By God's grace, children are growing not just physically but in the knowledge of Christ. At their young age, they know how to discern truth from error. They know that it is foolishness to worship graven images and they are grounded in biblical teaching of creationism. We are also teaching them to put their trust in the person and works of Christ for their own salvation and not in their own good deeds. Two young men from these children are now workers of the church. When we started the ministry here in Malanday they are little children in primary level but now they are in first year college education. And we are always reminding them that when they become professionals and earn through their profession they should help others also. Truly by means of patience, perseverance, hard-work and especially by the grace of God, little by little we see the fruit of our labor. It is such an encouragement to see how the Lord bless our ministry. The bible is true, our labor in Christ is not in vain.
Shalom!
Richard